Peckings A Special Record Shop
We've been chatting to Chris Peckings about the history of the Record shop, label and the reggae scene in the UK. As many people will know, Peckings stands firm on Askew Road, in London's Shepherd's Bush as the oldest Reggae record shop in the capital -with a huge role in bringing Reggae to the UK that dates back to the 60s. George "Peckings" Price was the first person to start selling Jamaican music outside of Jamaica, beginning with Studio One.

We love that the store still holds its vintage charm and welcomes Reggae fans and music lovers from across the globe. The good news is that Chris is soon to be offering exclusive Peckings Experiences at the shop offering people the chance to chat to him about the history and future of both Peckings and Reggae. Right now he's working with upcoming star Aleighcia Scott on her new album Forever In Love.




Chris Peckings at the shop on Askew Rd, London

The store was founded in 1974 by Chris's Dad, George "Peckings" Price and today it's run by Chris and his brothers Duke and Trevor. The label Peckings Records was founded in 2004 and includes working with artists from Gappy Ranks, Peter Hunningale, Tarrus Riley, Ras Charmer, Ras Ranger, Ras Demo, Baby Boom, Randy Valentine and Empress Storm.


When you combine that with the history of Reggae in the UK, the legacy of Coxsone Dodd's Studio One and the work of the Peckings family there's a lot to be said...

What's the ethos behind Peckings? Basically, we're all about providing a service. Whether selling or making good music. My Dad had a huge passion and belief in Studio One. He didn't want to sell anything else. We always aim to take the foundations and values of Peckings' forward and want to reflect our appreciation for the music culture it has represented over the years. I think happy music, and music that celebrates life is central to the whole Peckings ethos.







What's going on for Peckings right now?


We have a few albums in the pipeline and a Tarrus Riley EP. We've been recording with Tarrus since 2013. We love using horns and harmonies in our work. And, we always release on vinyl and digital.




We're also excited about the Aleighcia Scott album coming out on vinyl. And the Macka B EP, Gentrification – he's talking about how Brixton used to be, and how it is now. Macka is one of Britain's most prolific MCs. We're also enjoying working on a Randy Valentine album at the moment – he's featured on Havana meets Kingston (check out Jamarodo's One World and So Hot Right Now zones to hear track). Peter Hunningale, Peter Spence, Ras Charmer are all on-going projects. We also continue to make great records with the live musicians Mafia and Fluxy.







All these artists are featured across the Jamarado zones.

Who are your biggest musical influences? My Dad and my brothers. Ever since I was a kid, I wanted to leave school and work in the shop, as did all? my brothers. It was such an exciting place and still is. My Dad had been involved in the music business in Jamaica since the 50s going on to work closely with Coxsone Dodd. Coxsone merged RnB and Reggae. My Dad loved that. He came to London in the 60s and was the first person to sell Studio One music. He also worked with Hawkeye's Roy Ford Allen and Gussie Clark, amongst other legendary producers. Gussie produced Mighty Diamonds, Gregory Isaacs and Dennis Brown to name but a few. Initially, when Dad started out with the shop her really only wanted to sell Studio One. It was only around 75/76 that my Dad started selling other labels.










Duke and Chris Peckings







You grew up in the reggae world. What stands out to you? I have definitely lived Reggae and met a lot of artists, producers and people in the industry. The artists that personally stood out to me (although there are so many brilliant ones) are Alton Ellis. Prince Buster, Ken Boothe and Bunny Lee. I also met Bob Marley with Hawkeye, and it was a very special moment. When Coxsone came to London, I remember being about 10 and opening the door to him Lee Perry and Bunny Lee. I remember my Dad's face - it was pure happiness – they were like brothers to him. It was a great surprise. Think about it, the age before emails and mobiles there was a lot of surprise drop-bys. Our house was always full of Reggae artists. It was a fantastic way to grow up.




George "Peckings" Price, legendary Reggaepreneur




As a kid, I used to go to New York a lot and there was an amazing Reggae scene out there at the time. Lots of Record shops like White Plains, Clocktower, Moodies, New Look, Studio One's Music City and Randy's Record shop now VP. Vincent and Pat built the biggest Reggae label in world. New York was very violent in the 80s but it was so vibrant and creative. I loved Kool Herc, Bismarky, Pete Rock and Stretch Armstrong. With Hip Hop the DJs would buy the Reggae versions . Reggae has always been embedded with soul. Curtis Mayfield and Marvin Gaye, other soul artists had a huge influence on Reggae. 6O per cent of Reggae was Rocksteady and Ska covers in the 60s and 70s were covers of Soul records.




Where do you think Reggae is at in 2018? Reggae is in a good place. It went through a dark phase. I think at one point the lyrics got too dark and violent with some of the Dancehall. Previously, Reggae has always been about uplifting and educating yourself, I think it's returned to its roots now. The violence and hatred in the music left a disturbing taste. There are many positive artists making music today.... and really good artists. It's also great to see new independent artists. Social Media is helping that. People can find out about people and connect directly.




The UK scene is healthy as new production comes in as is France and Germany. I think Jamaica slackened a little in the past decade but is now pushing hard to make the hits and the new sounds. Global festivals are on the rise and helping the music new audiences. Its always a hard balance between commercial and real.




Peckings Record Shop

81 Askew Rd

Shepherd's Bush

London W12 9AH

Instagram @peckings




For more Peckings Experience info please call 07944 488191






Peckings 
A Special Record Shop 
We've been chatting to Chris Peckings about the history of the Record shop, label and the reggae scene in the UK.  As many people will know, Peckings stands firm on Askew Road, in London's Shepherd's Bush as the oldest Reggae record shop in the capital -with a huge role in bringing Reggae to the UK that dates back to the 60s. George "Peckings" Price was the first person to start selling Jamaican music outside of Jamaica, beginning with Studio One. 
We love that the store still holds its vintage charm and welcomes Reggae fans and music lovers from across the globe. The good news is that Chris is soon to be offering exclusive Peckings Experiences at the shop offering people the chance to chat to him about the history and future of both Peckings and Reggae. Right now he's working with upcoming star Aleighcia Scott on her new album Forever In Love.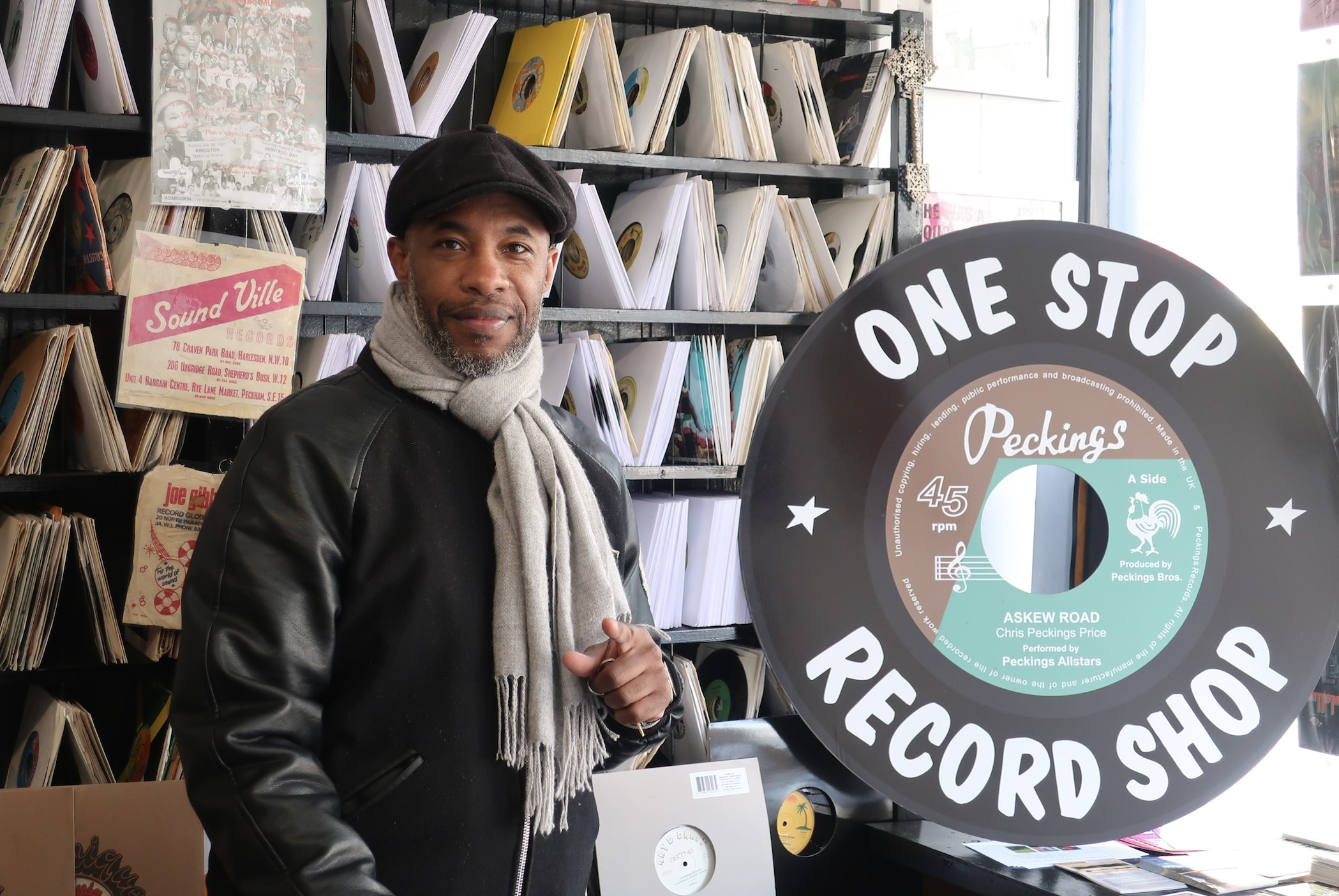 Chris Peckings at the shop on Askew Rd, London

The store was founded in 1974 by Chris's Dad, George "Peckings" Price and today it's run by Chris and his brothers Duke and Trevor. The label Peckings Records was founded in 2004 and includes working with artists from  Gappy Ranks, Peter Hunningale, Tarrus Riley, Ras Charmer, Ras Ranger, Ras Demo, Baby Boom, Randy Valentine and Empress Storm.  
When you combine that with the history of Reggae in the UK, the legacy of Coxsone Dodd's Studio One and the work of the Peckings family there's a lot to be said...
What's the ethos behind Peckings?  Basically, we're all about providing a service. Whether selling or making good music. My Dad had a huge passion and belief in Studio One.  He didn't want to sell anything else. We always aim to take the foundations and values of Peckings' forward and want to reflect our appreciation for the music culture it has represented over the years. I think happy music, and music that celebrates life is central to the whole Peckings ethos.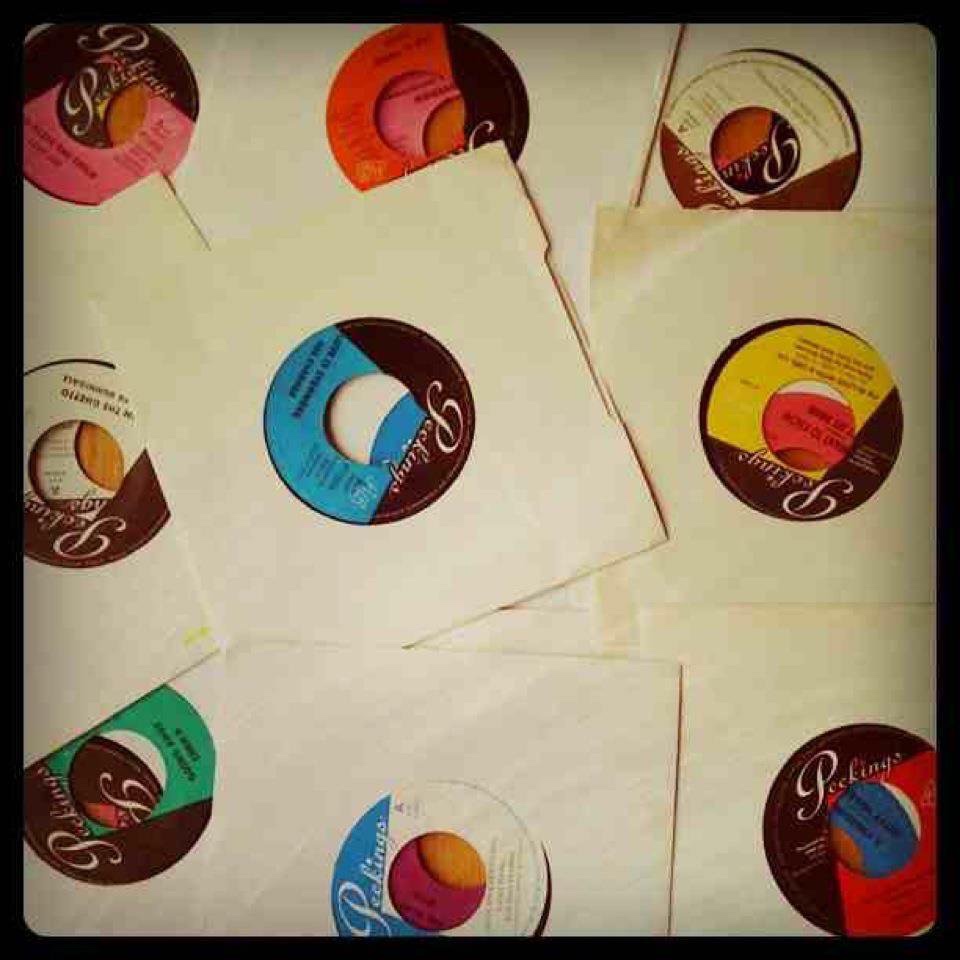 What's going on for Peckings right now?  We have a few albums in the pipeline and a Tarrus Riley EP. We've been recording with Tarrus since 2013.  We love using horns and harmonies in our work. And, we always release on vinyl and digital.
We're also excited about the Aleighcia Scott album coming out on vinyl. And the Macka B EP, Gentrification – he's talking about how Brixton used to be, and how it is now. Macka is one of Britain's most prolific MCs. We're also enjoying working on a Randy Valentine album at the moment – he's featured on Havana meets Kingston (check out Jamarodo's One World and So Hot Right Now zones to hear track). Peter Hunningale, Peter Spence, Ras Charmer are all on-going projects.  We also continue to make great records with the live musicians Mafia and Fluxy.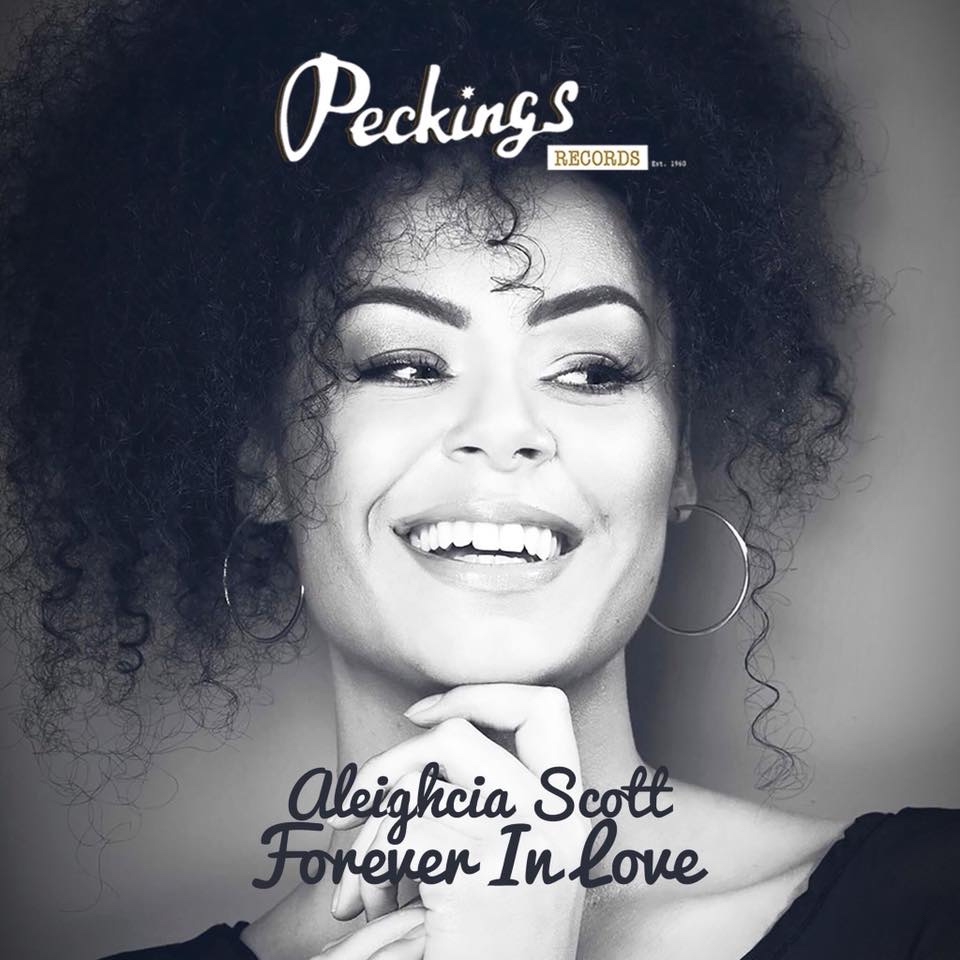 All these artists are featured across the Jamarado  zones.
Who are your biggest musical influences? My Dad and my brothers. Ever since I was a kid, I wanted to leave school and work in the shop, as did all my brothers. It was such an exciting place and still is.  My Dad had been involved in the music business in Jamaica since the 50s going on to work closely with Coxsone Dodd. Coxsone merged RnB and Reggae.  My Dad loved that. He came to London in the 60s and was the first person to sell Studio One music. He also worked with Hawkeye's Roy Ford Allen and Gussie Clark, amongst other legendary producers. Gussie produced Mighty Diamonds, Gregory Isaacs and Dennis Brown to name but a few.  Initially, when Dad started out with the shop her really only wanted to sell Studio One. It was only around 75/76 that my Dad started selling other labels.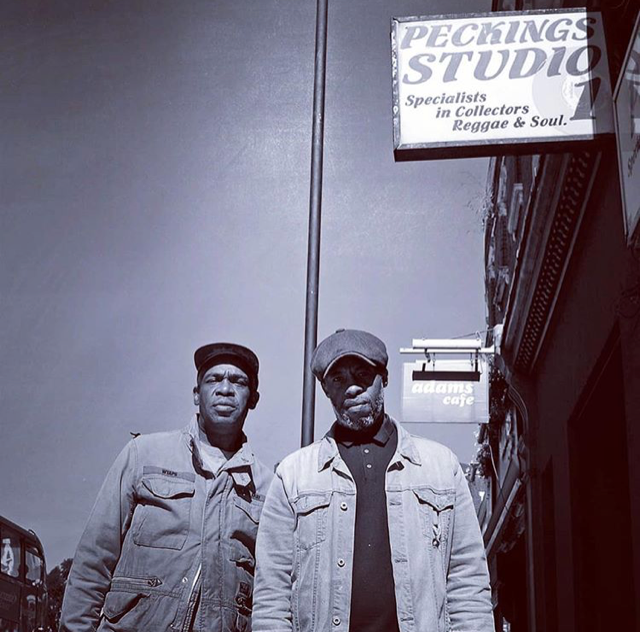 Duke and Chris Peckings
You grew up in the reggae world. What stands out to you? I have definitely lived Reggae and met a lot of artists, producers and people in the industry. The artists that personally stood out to me (although there are so many brilliant ones) are Alton Ellis. Prince Buster, Ken Boothe and Bunny Lee. I  also met Bob Marley with Hawkeye, and it was a very special moment. When Coxsone came to London, I remember being about 10 and opening the door to him Lee Perry and Bunny Lee. I remember my Dad's face - it was pure happiness – they were like brothers to him. It was a great surprise. Think about it, the age before emails and mobiles there was a lot of surprise drop-bys.  Our house was always full of Reggae artists. It was a fantastic way to grow up.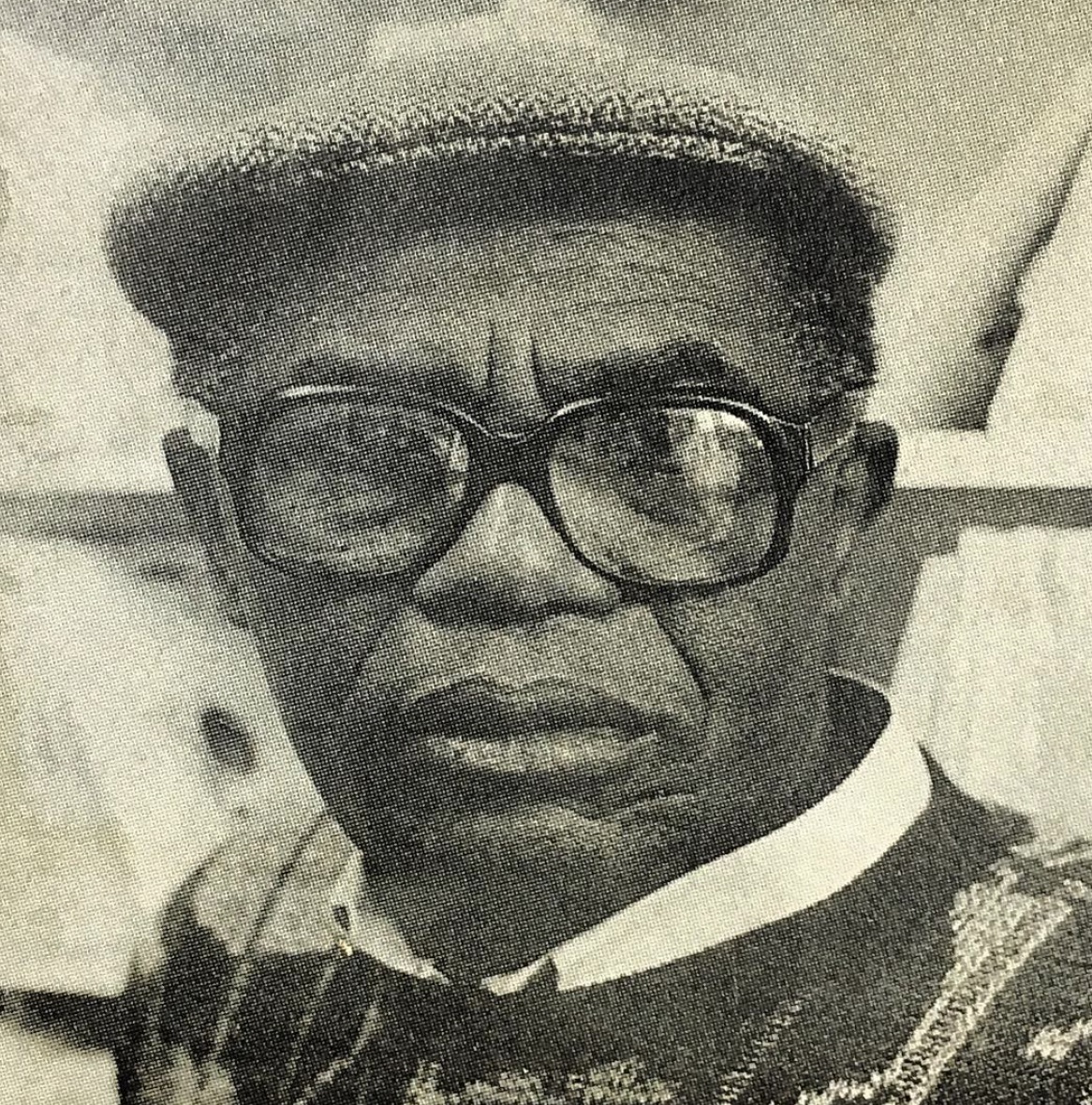 George "Peckings" Price, legendary Reggaepreneur
As a kid, I used to go to New York a lot and there was an amazing Reggae scene out there at the time. Lots of Record shops like White Plains, Clocktower, Moodies, New Look, Studio One's Music City and Randy's Record shop now VP. Vincent and Pat built the biggest Reggae label in world.   New York was very violent in the 80s but it was so vibrant and creative.  I loved Kool Herc,  Bismarky, Pete Rock and  Stretch Armstrong.  With Hip Hop the DJs would buy the Reggae versions . Reggae has always been embedded with  soul. Curtis Mayfield and Marvin Gaye, other soul artists had a huge influence on Reggae.  6O per cent  of Reggae was Rocksteady and Ska covers in the 60s and 70s were covers of Soul records.  
Where do you think Reggae is at in 2018? Reggae is in a good place. It went through a dark phase. I think at one point the lyrics got too dark and violent with some of the Dancehall. Previously, Reggae has  always been about uplifting and educating yourself, I think it's returned to its roots now. The violence and hatred in the music left a disturbing taste.  There are many positive artists making music today....  and really good artists.  It's also great to see new independent artists.  Social Media is helping that. People can find out about people and connect directly. 
The UK  scene is healthy as new production comes in as is France and Germany. I think Jamaica slackened a little in the past decade but is now pushing hard to make the hits and the new sounds. Global festivals are on the rise and  helping the music new audiences. Its always a hard balance between commercial and real.
Peckings Record Shop - 81 Askew Rd, Shepherd's Bush, London W12 9AH
Instagram @peckings
For more Peckings Experience info please call 07944 488191