Meet Poema Jones
Artivist, designer, illustrator and ethical afro-preneur Joyce S Kent, artistically known as Poema Jones is showing us all that you don't need an army or big backing to start your own revolution. You start step by step, with creativity and what you have – you then build with integrity and the spirit of that vision. As Poema discovered, with the powers of the internet and social media the possibilities to connect with appreciators and to define your own unique contribution to the world blossom. 

Poema encapsulates the term Artivist – she uses her creativity to change and celebrate the world around her bringing inspiration and unique, afro-centred products to appreciative fans. To do this Poema set up The Cool Ruler creative production agency for Afro Arts and Culture - an independent platform for creative producers from fashion to art and food to come together to share their products, services and very importantly, to tell their own stories.   By unifying as a collective, Poema wants to harness new opportunities for Afro and diasporic creatives or those who support afro-centric narratives and authenticity in their work.




The Cool Ruler mission is to champion and empower Afro arts, design and culture across the globe, from the roots up.  For those who haven't got it already, its inspired by the one and only Cool Ruler himself, Gregory Isaacs - Reggae activist, musician, style icon and ultimate cool rocker. 

Currently, spearheading Poema's agency is her own Poema Jones The Cool Ruler hat label, run from her adopted home of Gambia. These iconic, woven straw hats that instantly spell cool originality espouse Rockers style meets Ragamuffin chic, referencing back to the style of Gregory Isaacs and the rockers era and throwing forward to contemporary Ragamuffin style. The hats have created quite a storm, becoming firm favourite of well-known singers and actors. The Afropunk festival goers in NY went wild over these creations and Poema is now expanding to cope with demand.  The brand now has an outlet in Atlanta and its own ethical production base in Gambia.




We were mega excited to speak to this dynamo of energy and original Rockers inspiration after following her for months on Instagram @poemajones. The Cool Ruler website is a must go-to www.thecoolruler.com and her postings always bring delight - we're busy selecting from her illustrations and uber-cool afro and rasta inspired gifts on her Society 6/ Poema Jones Store.

The Cool Ruler Raggamuffin hat collection has been making big waves across the globe? Tell us all about it and what inspired it? It's our biggest project at the moment. It's all about the product - the super cool hats in natural woven materials and the process that creates the hats in terms of providing opportunity for Gambians to develop a craft and gain work.  Each hat designed has an iconic silhouette inspired by the Rockers movie era. They capture the coolness of that time with a modern twist. For those of you who don't know, Rockers is a 70s film set in Jamaica with a rockin' Reggae soundtrack and stars Gregory Isaacs, Leroy "Horsemouth" Wallace, Jacob Miller and a host of other Reggae legends. Gregory Isaacs also always performed with a hat. He's the ultimate Cool Ruler and my biggest inspiration. 

 

They're currently 8 hats in the Ragamuffin collection – The Cool Ruler, Steppin Razor, Strictly Rockers, Ragamuffin, Bandolero, Black Cinderella, Bring the Base and Top a Top Bucket Hat. We've opened a division in Atlanta too which we are really excited about. It's such an open, creative city.







Poema wearing one of her hats 




Who's been wearing the hats? People from all over the world. The support is a true blessing. We're shipping to Australia, Philippines, Japan, Jamaica, Atlanta, New Orleans, Suriname, Netherlands, France, Poland, Sweden and UK. Erikah Badu and Cheech, lead singer form Arrested Development love wearing! That's amazing for us. 

What else can we expect to find on The Cool Ruler? My artwork, jewellery and other rasta inspired clothing with a twist. I also have the Poema Jones collection of illustrated gifts and prints on Society 6. I also curate cool stuff that I find that are locally made in Gambia.




 

Earings curated by Poema Jones.  




 

Acrylic Art by Poema Jones 




What's The Cool Ruler's big mission all about? It's a creative, arts and culture movement built on Pan-Africanism, African Pride community building, natural and sustainable living and Rastafari principles.  It's also about reinventing and reclaiming the African narrative and creative representation. I've always felt the stories of Africa have been presented in very one-dimensional ways with stereotypes and by people outside the communities themselves. The Cool Ruler is all about re-claiming the representation and space from within. It's dynamic and multi-faceated and all about creating a new positive narrative of Africa that is diverse and based on its own people's experiences and stories. The future of Africa is bright and I want the creative movement to celebrate that and help transform the future. 

 

Fundamental to The Cool Ruler ethos is the idea of building little by little and that we can all make changes with small efforts. Through my efforts I want to show that anyone can contribute to the change. Things don't have to be on a huge scale to make an impact. It's all about us just getting out there and doing what we can in our own individual way. The more of us that think this way, and simply DO, the greater the movement becomes. 

 

What made you move to Gambia from the Netherlands? Gambia chose me! I had my heart set on Senegal but a friend persuaded me to visit Gambia and I fell in love with it. I had been searching to settle in Africa for a long time.  I felt I had to get on the ground and build something. I felt like DOING needed to happen. I have always had a Pan-African vision and felt I needed to go to Africa to realise it. I felt I wasn't blooming in Amsterdam and I needed to make the change. I was ready. 

 

What do I love about reggae music and how does it make me feel.  Everything. It's been my first love and my inspiration source from time. I love the message, from the love for Africa and African-ness to the militancy and fight against oppression and upliftment of the poor. It held up the vision of Africa for me when Africa seemed so far away. ? and of course, I love the easy vibe when you're skanking to good music, sipping on a natural juice and puff some herb and the Rastas are flashing their locs.

 

The Cool Ruler is also very much a social project and about bringing people together. You're planning a creative space for socialising and events. Who would you invite to visit the space.

Mostly creatives and anyone who loves creativity, Rastas, Pan Africanist, people interested in contributing to the culture in some way. 

 







What's been your biggest highlight on The Cool Ruler Journey? Discovering how easy it is to involve passionate people in the vision. Once I was truly ready, the support just came, the right energies flowed. Everything about my life and connectivity to the world started to make total sense. That's what Gambia has given to me. 

 

What does the future hold? Everything that's The Cool Ruler vision. Follow me on @poemajones and @thecoolrulerdotcom to find out more. 




For all the hats, artwork, jewellery and clothing please go to www.thecoolruler.com

 

For the Poema Jones illustrative collection go to www.society6.com




 

 
Afro-preneur
Meet Poema Jones
Artivist, designer, illustrator and ethical afro-preneur Joyce S Kent, artistically known as Poema Jones is showing us all that you don't need an army or big backing to start your own revolution. You start step by step, with creativity and what you have – you then build with integrity and the spirit of that vision. As Poema discovered, with the powers of the internet and social media the possibilities to connect with appreciators and to define your own unique contribution to the world blossom.
Poema encapsulates the term Artivist – she uses her creativity to change and celebrate the world around her bringing inspiration and unique, afro-centred products to appreciative fans. To do this Poema set up The Cool Ruler creative production agency for Afro Arts and Culture - an independent platform for creative producers from fashion to art and food to come together to share their products, services and very importantly, to tell their own stories. By unifying as a collective, Poema wants to harness new opportunities for Afro and diasporic creatives or those who support afro-centric narratives and authenticity in their work.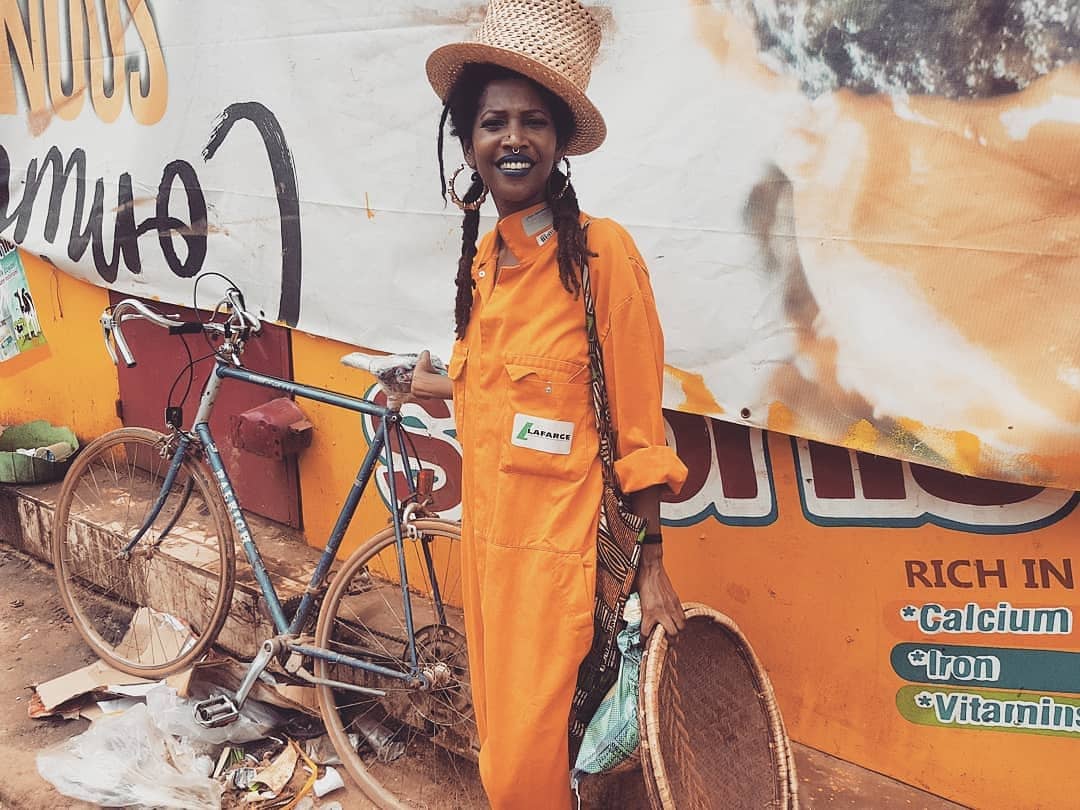 The Cool Ruler mission is to champion and empower Afro arts, design and culture across the globe, from the roots up. For those who haven't got it already, its inspired by the one and only Cool Ruler himself, Gregory Isaacs - Reggae activist, musician, style icon and ultimate cool rocker.
Currently, spearheading Poema's agency is her own Poema Jones The Cool Ruler hat label, run from her adopted home of Gambia. These iconic, woven straw hats that instantly spell cool originality espouse Rockers style meets Ragamuffin chic, referencing back to the style of Gregory Isaacs and the rockers era and throwing forward to contemporary Ragamuffin style. The hats have created quite a storm, becoming firm favourite of well-known singers and actors. The Afropunk festival goers in NY went wild over these creations and Poema is now expanding to cope with demand. The brand now has an outlet in Atlanta and its own ethical production base in Gambia.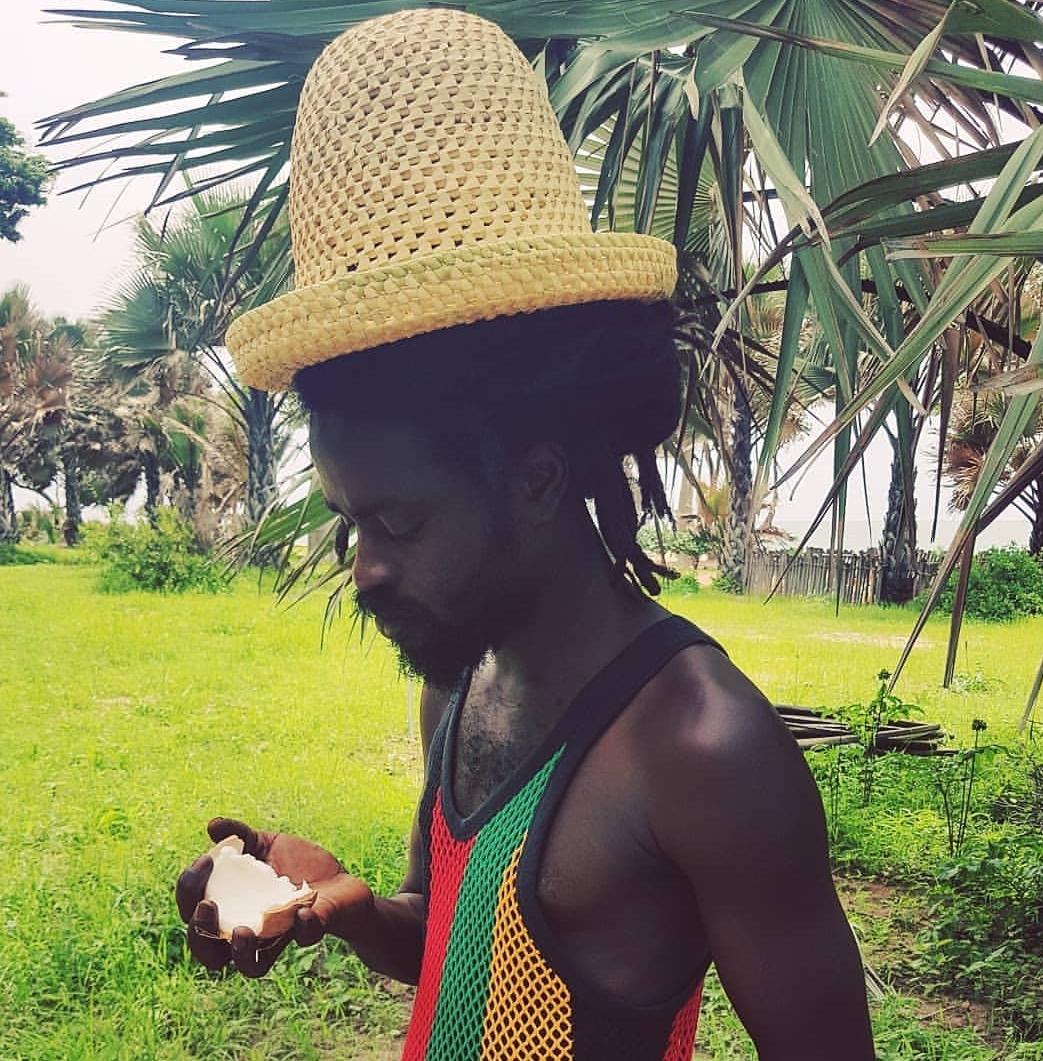 We were mega excited to speak to this dynamo of energy and original Rockers inspiration after following her for months on Instagram @poemajones. The Cool Ruler website is a must go-to www.thecoolruler.com and her postings always bring delight - we're busy selecting from her illustrations and uber-cool afro and rasta inspired gifts on her Society 6/ Poema Jones Store.
The Cool Ruler Raggamuffin hat collection has been making big waves across the globe? Tell us all about it and what inspired it? It's our biggest project at the moment. It's all about the product - the super cool hats in natural woven materials and the process that creates the hats in terms of providing opportunity for Gambians to develop a craft and gain work. Each hat designed has an iconic silhouette inspired by the Rockers movie era. They capture the coolness of that time with a modern twist. For those of you who don't know, Rockers is a 70s film set in Jamaica with a rockin' Reggae soundtrack and stars Gregory Isaacs, Leroy "Horsemouth" Wallace, Jacob Miller and a host of other Reggae legends. Gregory Isaacs also always performed with a hat. He's the ultimate Cool Ruler and my biggest inspiration.
They're currently 8 hats in the Ragamuffin collection – The Cool Ruler, Steppin Razor, Strictly Rockers, Ragamuffin, Bandolero, Black Cinderella, Bring the Base and Top a Top Bucket Hat. We've opened a division in Atlanta too which we are really excited about. It's such an open, creative city.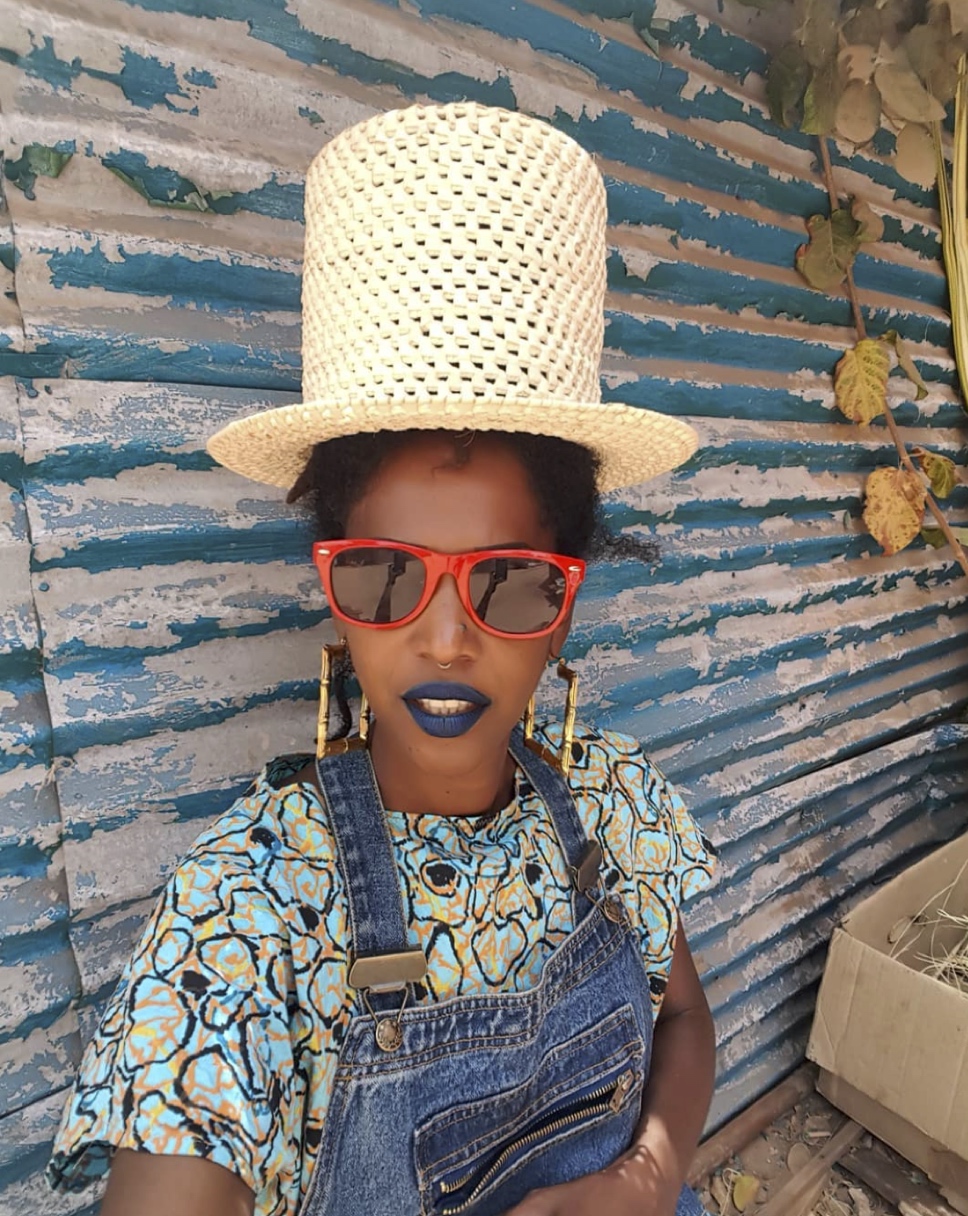 Poema wearing one of her hats.
Who's been wearing the hats? People from all over the world. The support is a true blessing. We're shipping to Australia, Philippines, Japan, Jamaica, Atlanta, New Orleans, Suriname, Netherlands, France, Poland, Sweden and UK. Erikah Badu and Cheech, lead singer form Arrested Development love wearing! That's amazing for us.
What else can we expect to find on The Cool Ruler? My artwork, jewellery and other rasta inspired clothing with a twist. I also have the Poema Jones collection of illustrated gifts and prints on Society 6. I also curate cool stuff that I find that are locally made in Gambia.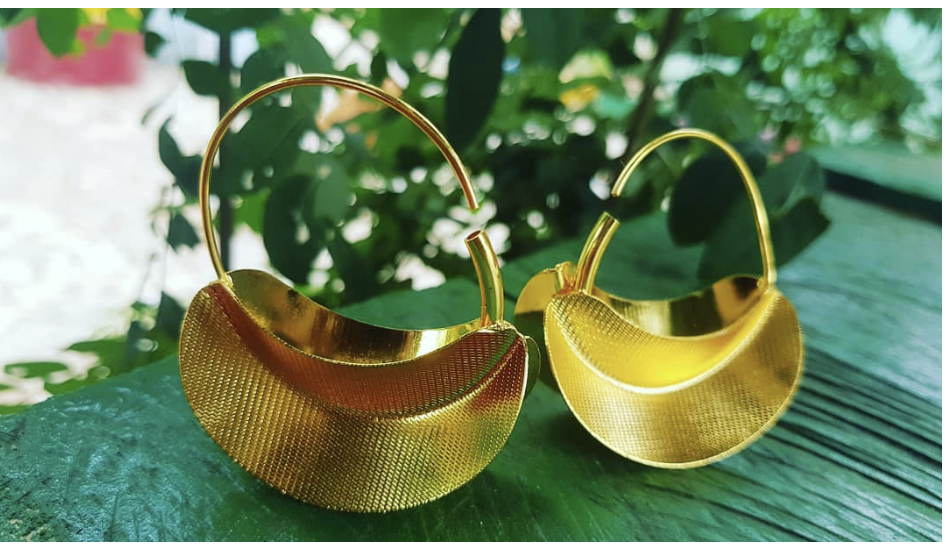 Earings curated by Poema Jones.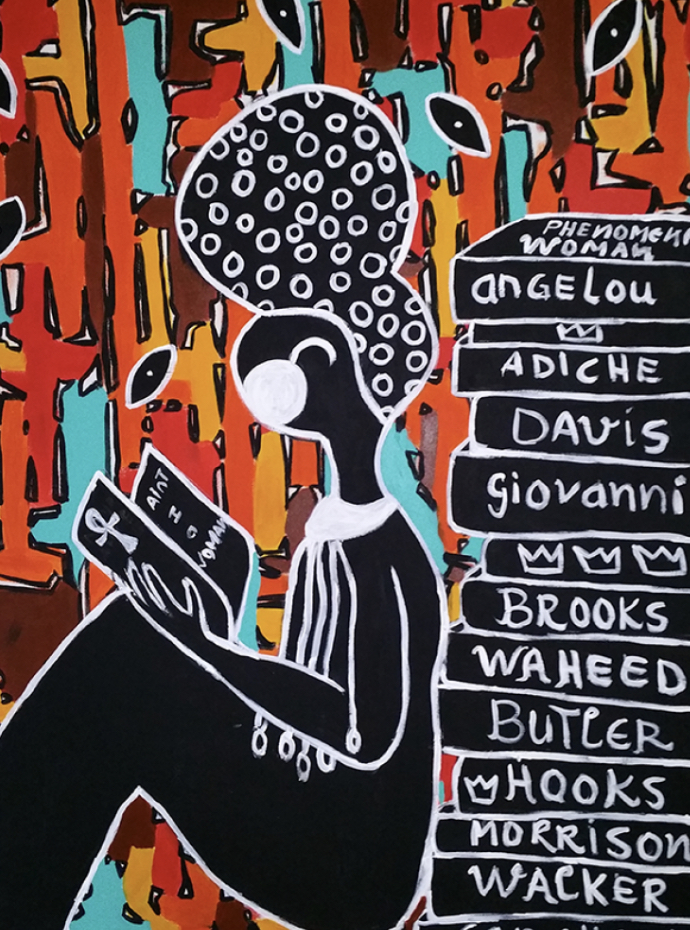 Acrylic Art by Poema Jones
What's The Cool Ruler's big mission all about? It's a creative, arts and culture movement built on Pan-Africanism, African Pride community building, natural and sustainable living and Rastafari principles. It's also about reinventing and reclaiming the African narrative and creative representation. I've always felt the stories of Africa have been presented in very one-dimensional ways with stereotypes and by people outside the communities themselves. The Cool Ruler is all about re-claiming the representation and space from within. It's dynamic and multi-faceated and all about creating a new positive narrative of Africa that is diverse and based on its own people's experiences and stories. The future of Africa is bright and I want the creative movement to celebrate that and help transform the future.
Fundamental to The Cool Ruler ethos is the idea of building little by little and that we can all make changes with small efforts. Through my efforts I want to show that anyone can contribute to the change. Things don't have to be on a huge scale to make an impact. It's all about us just getting out there and doing what we can in our own individual way. The more of us that think this way, and simply DO, the greater the movement becomes.
What made you move to Gambia from the Netherlands? Gambia chose me! I had my heart set on Senegal but a friend persuaded me to visit Gambia and I fell in love with it. I had been searching to settle in Africa for a long time. I felt I had to get on the ground and build something. I felt like DOING needed to happen. I have always had a Pan-African vision and felt I needed to go to Africa to realise it. I felt I wasn't blooming in Amsterdam and I needed to make the change. I was ready.
What do I love about reggae music and how does it make me feel. Everything. It's been my first love and my inspiration source from time. I love the message, from the love for Africa and African-ness to the militancy and fight against oppression and upliftment of the poor. It held up the vision of Africa for me when Africa seemed so far away. ? and of course, I love the easy vibe when you're skanking to good music, sipping on a natural juice and puff some herb and the Rastas are flashing their locs.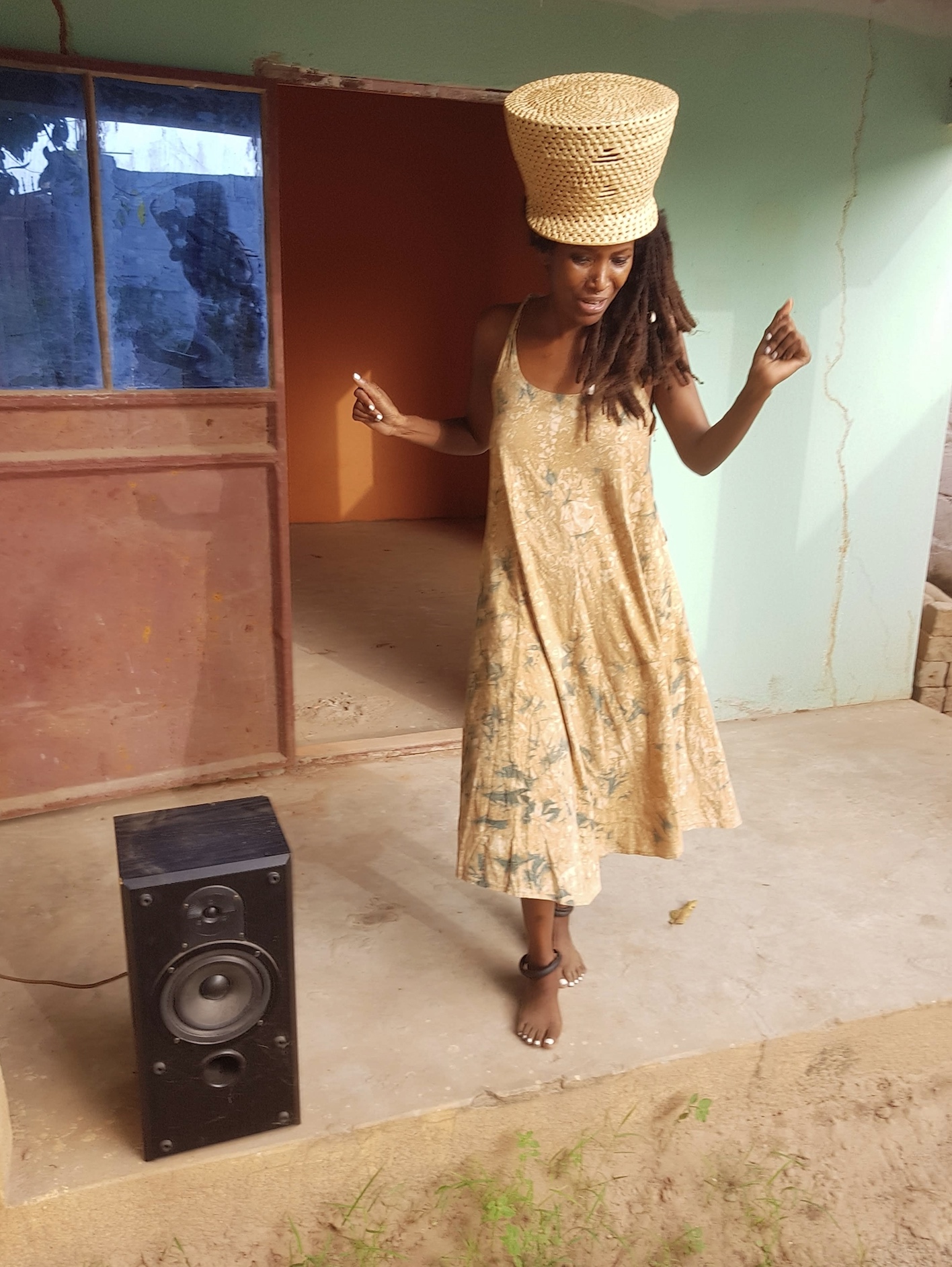 The Cool Ruler is also very much a social project and about bringing people together. You're planning a creative space for socialising and events. Who would you invite to visit the space.
Mostly creatives and anyone who loves creativity, Rastas, Pan Africanist, people interested in contributing to the culture in some way.
What's been your biggest highlight on The Cool Ruler Journey? Discovering how easy it is to involve passionate people in the vision. Once I was truly ready, the support just came, the right energies flowed. Everything about my life and connectivity to the world started to make total sense. That's what Gambia has given to me.
What does the future hold? Everything that's The Cool Ruler vision. Follow me on @poemajones and @thecoolrulerdotcom to find out more.
For all the hats, artwork, jewellery and clothing please go to www.thecoolruler.com
For the Poema Jones illustrative collection go to www.society6.com