Located in the heart of Trench Town, Big Link studios founded by Balla T is the real deal community Jamaican studio, staying true to the ethos of the studio at the core of everyday Jamaican life. Offering opportunity and affordability to many rising artistes, Big Link has over the years also produced with the all-time greats of the roots reggae world including Capleton, I-Wayne and Lutan Fyah. Jamarado visited in April 2019 and got inspired with the work Ball T and his team have done to keep reggae music production alive in the very community it came from.

We've loaded a Big Link, Trench Town to our Special Selectahs which features Capleton, I Wayne, Nebeth, Ikushini, Action Kay, Akeem Garrison and more on the Soul Root Riddim.  Its real roots vibes direct from the source. If you'd like to record or visit the studio for a true Trench Town experience please contact info@jamarado.com . The album Soul Roots is available for download on all digital platforms.

Here's what Balla T has to say about his creation and vision for Big Link.

How did Big Link Studios come about? When did you start?  Big Link Crew was a name we gave ourselves, going back as far as the mid 90's. We used to keep parties in the community under that name. Therefore, the name has been with us for quite some time now. However, the studio itself started in 2013, with a laptop and a speaker.




I-Wayne who has recorded with Big Links 

What is the Big Link mission? What are the main goals of Big Link? Our mission is to produce quality music. Primarily reggae music, but we produce dancehall music as well. Our main goal is to become a productive and professional studio, and make a difference in our community.

What challenges did you face in setting up Big Link and what continues to challenge you? Our biggest challenge was always finding the money to purchase the equipment we need for the upgrade and maintenance of the studio. We continue face that challenge up to this day and time.

Who has supported you, and who have you worked with to develop Big Link? Many people have helped us over the years. We cannot mention all of them here, but, there are some that deserve honorable mention. Howard Chevannes, Abdel Morrow, Iffa Cush, Dorian Drummonds, Chris Bicknell and Mark Golden.




Music Producer, Iffa Cush with Balla T on the right. 

Name, some of the most, well known, works, to come out of Big Link? I Wayne, Stay Humble. Capleton Time will tell. Lutan Fyah, Africa. Akeem Garrison, Running out of time.

Artists that Big Link has helped develop? Akeem Garrison               is one of our most promising artist. He has been with us from the beginning. Presently he is on tour overseas promoting his album, produced by Big Links Studio.




Akeem Garrison, rising Jamaican Reggae singer

What does Big Link studio mean to the community of Trench Town?  For many young artists in Trench Town, Big Link represents an opportunity to realize their dream of achieving recognition for their talent. This possible because we charge very little for studio time, and in some cases, we charge nothing. Therefore, the community understands that we are here to work with them. After all, this is our community.

Where are you at right now? How do you want to take Big Link forward? What help do you need?  Right now, we are at the threshold of realizing our full potential. In order for us to move forward, we need significant promotion. To accomplish this, we need all the help we can get to access the internet and radio services. These services come at a cost, and our financial situation has not allowed us to take full advantage them.  

What are your biggest highlights on the Big Link journey?   One was to witness Akeem Garrison going on tour overseas. The other was to complete the Soul Roots album and have it promoted.

 

Tell us about, the youth foundation connected to Big Link?

Fathers United for Change (F.U.F.C)

AIMS AND OBJECTIVES

1.              To mentor, counsel and inspire the men to make the change and be the change within the community.

2.              To foster and promote unity and co-operation among all community members especially the males.

3.              To look after the general welfare of its members in terms of:

a)              Breaking the cycle of male bad parenting practices.

b)              Contributing positively towards personal and community well-being.

c)              Promoting better parenting practices.

d)              Promoting cultural and social development.

e)              Creating an enabling environment for positive community development initiatives.

f)               Fostering a peaceful and safe environment.

4.              Lobby for improved community infrastructure and enhanced standards.

5.              Promote, encourage and inculcate a sense of belonging and teamwork for its members and all persons of interest.

6.              To create a community networking mechanism to foster better relationships among community members and persons of other communities.







 The Foundation Youth Programme. 

What's your biggest motto/ saying in Life?  It is best to do nothing, than to do good with a bad attitude.

 

If you could sit down and reason with 3 people past or present who would they be? Marcus Garvey, Bob Marley, Haile Selassie.




 Portrait of H.I.M Haile Selassie I that hangs in the studio 

How do you see the future of Reggae? The future of reggae is strong, and we believe that with our contribution, it will become even stronger.  

To visit Balla T and the studio please contact info@jamarado.com 

 

Reggae artiste, Dahvid Slur, relaxing at the Studio 




Jamardo Founder, Karen Proctor visiting the studio 




Nesbeth, who has recorded at the Studio 

Big Link Studio, Jamaica
Foundation Sounds
Located in the heart of Trench Town, Big Link studios founded by Balla T is the real deal community Jamaican studio, staying true to the ethos of the studio at the core of everyday Jamaican life. Offering opportunity and affordability to many rising artistes, Big Link has over the years also produced with the all-time greats of the roots reggae world including Capleton, I-Wayne and Lutan Fyah. Jamarado visited in April 2019 and got inspired with the work Ball T and his team have done to keep reggae music production alive in the very community it came from.
We've loaded a Big Link, Trench Town to our Special Selectahs which features Capleton, I Wayne, Nebeth, Ikushini, Action Kay, Akeem Garrison and more on the Soul Root Riddim. Its real roots vibes direct from the source. If you'd like to record or visit the studio for a true Trench Town experience please contact info@jamarado.com . The album Soul Roots is available for download on all digital platforms.
Here's what Balla T has to say about his creation and vision for Big Link.
How did Big Link Studios come about? When did you start? Big Link Crew was a name we gave ourselves, going back as far as the mid 90's. We used to keep parties in the community under that name. Therefore, the name has been with us for quite some time now. However, the studio itself started in 2013, with a laptop and a speaker.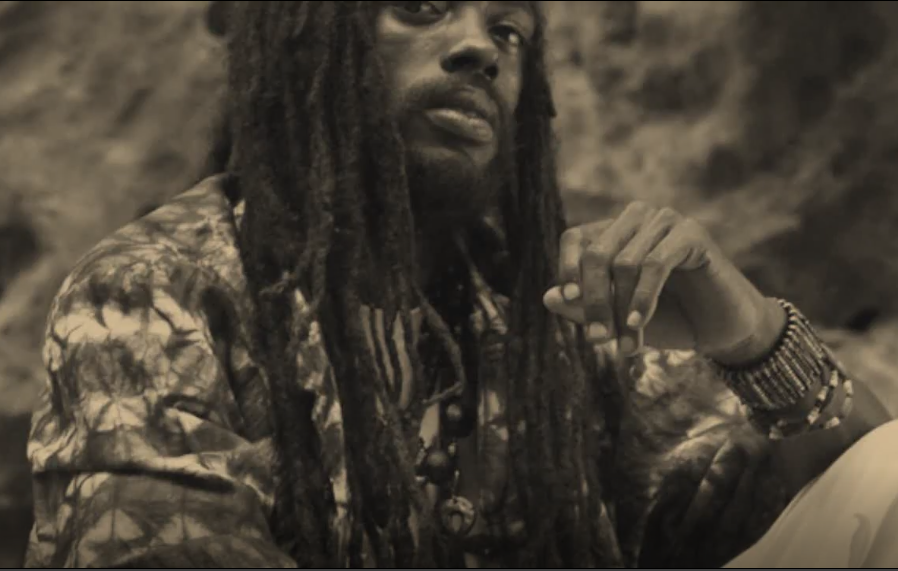 I-Wayne, who has recorded with Big LInk Studio
What is the Big Link mission? What are the main goals of Big Link? Our mission is to produce quality music. Primarily reggae music, but we produce dancehall music as well. Our main goal is to become a productive and professional studio, and make a difference in our community.
What challenges did you face in setting up Big Link and what continues to challenge you? Our biggest challenge was always finding the money to purchase the equipment we need for the upgrade and maintenance of the studio. We continue face that challenge up to this day and time.
Who has supported you, and who have you worked with to develop Big Link? Many people have helped us over the years. We cannot mention all of them here, but, there are some that deserve honorable mention. Howard Chevannes, Abdel Morrow, Iffa Cush, Dorian Drummonds, Chris Bicknell and Mark Golden.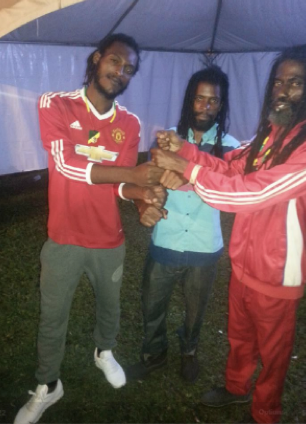 Balla T (right) with Iffa Cush Music Producer (left)
Name, some of the most, well known, works, to come out of Big Link? I Wayne, Stay Humble. Capleton Time Will Tell. Lutan Fyah, Africa. Akeem Garrison, Running Out of Time.
Artists that Big Link has helped develop? Akeem Garrison is one of our most promising artist. He has been with us from the beginning. Presently he is on tour overseas promoting his album, produced by Big Links Studio.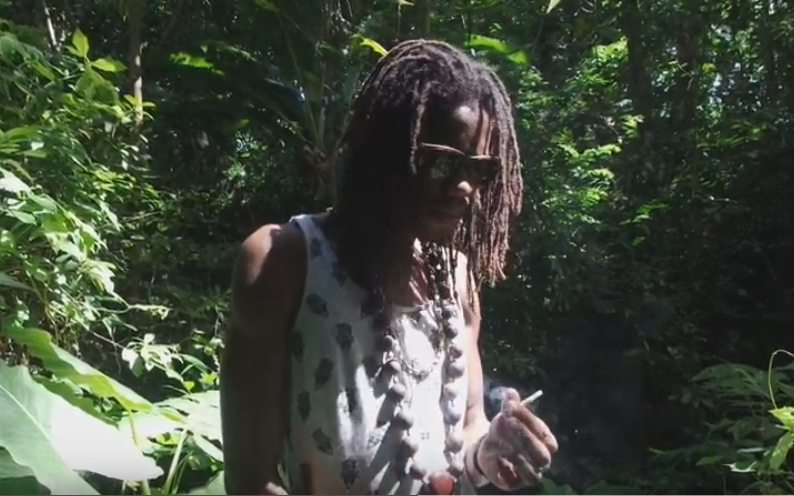 Akeem Garrison, rising Reggae artiste from Big Link Studio
What does Big Link studio mean to the community of Trench Town? For many young artists in Trench Town, Big Link represents an opportunity to realize their dream of achieving recognition for their talent. This possible because we charge very little for studio time, and in some cases, we charge nothing. Therefore, the community understands that we are here to work with them. After all, this is our community.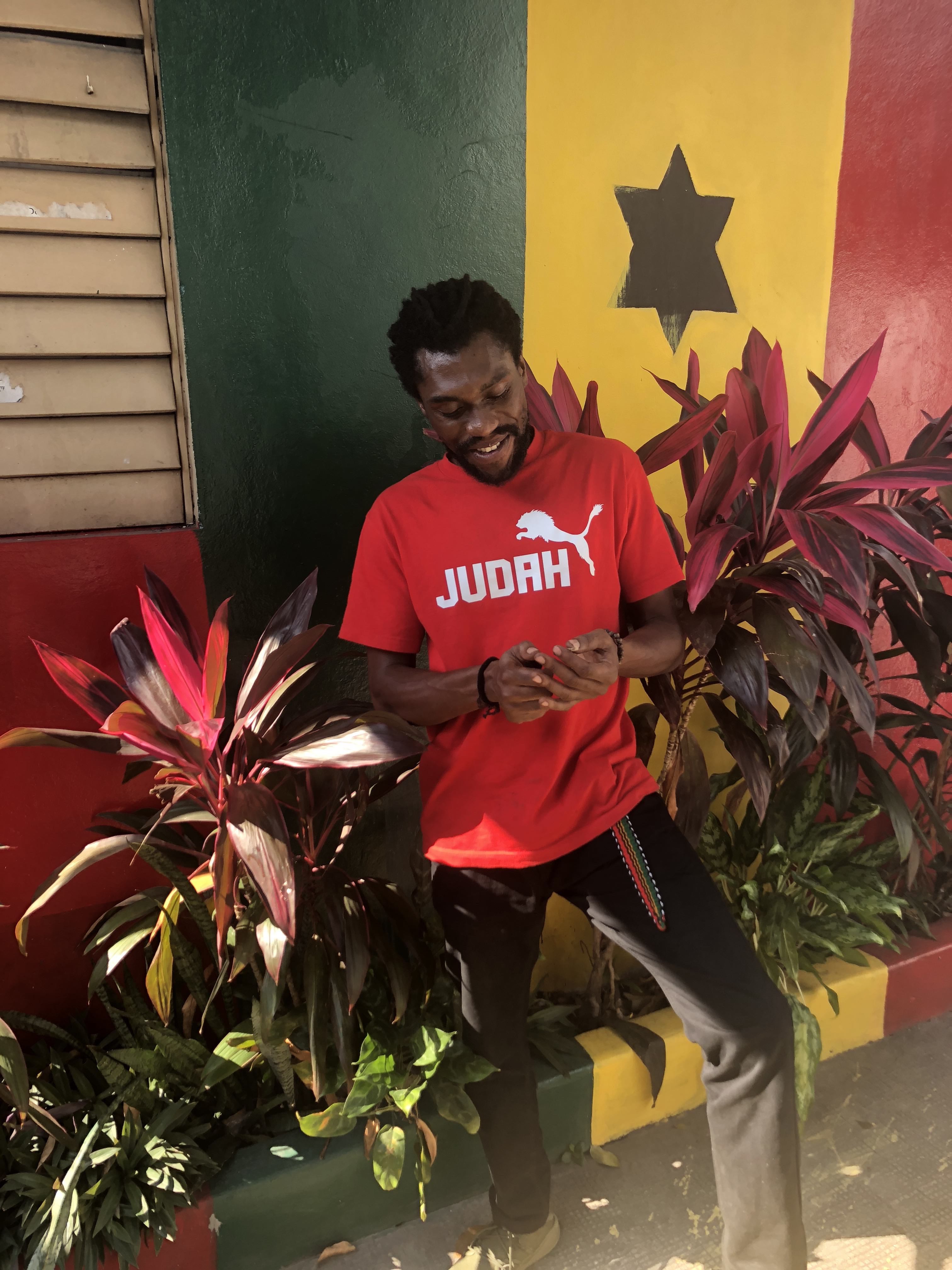 Reggae artiste, Dahvid Slur at the Studio
Nesbeth, who has recorded at Big Link
Where are you at right now? How do you want to take Big Link forward? What help do you need? Right now, we are at the threshold of realizing our full potential. In order for us to move forward, we need significant promotion. To accomplish this, we need all the help we can get to access the internet and radio services. These services come at a cost, and our financial situation has not allowed us to take full advantage them.
What are your biggest highlights on the Big Link journey? One was to witness Akeem Garrison going on tour overseas. The other was to complete the Soul Roots album and have it promoted.
Tell us about, the youth foundation connected to Big Link?
Fathers United for Change (F.U.F.C)
AIMS AND OBJECTIVES
1. To mentor, counsel and inspire the men to make the change and be the change within the community.
2. To foster and promote unity and co-operation among all community members especially the males.
3. To look after the general welfare of its members in terms of:
a) Breaking the cycle of male bad parenting practices.
b) Contributing positively towards personal and community well-being.
c) Promoting better parenting practices.
d) Promoting cultural and social development.
e) Creating an enabling environment for positive community development initiatives.
f) Fostering a peaceful and safe environment.
4. Lobby for improved community infrastructure and enhanced standards.
5. Promote, encourage and inculcate a sense of belonging and teamwork for its members and all persons of interest.
6. To create a community networking mechanism to foster better relationships among community members and persons of other communities.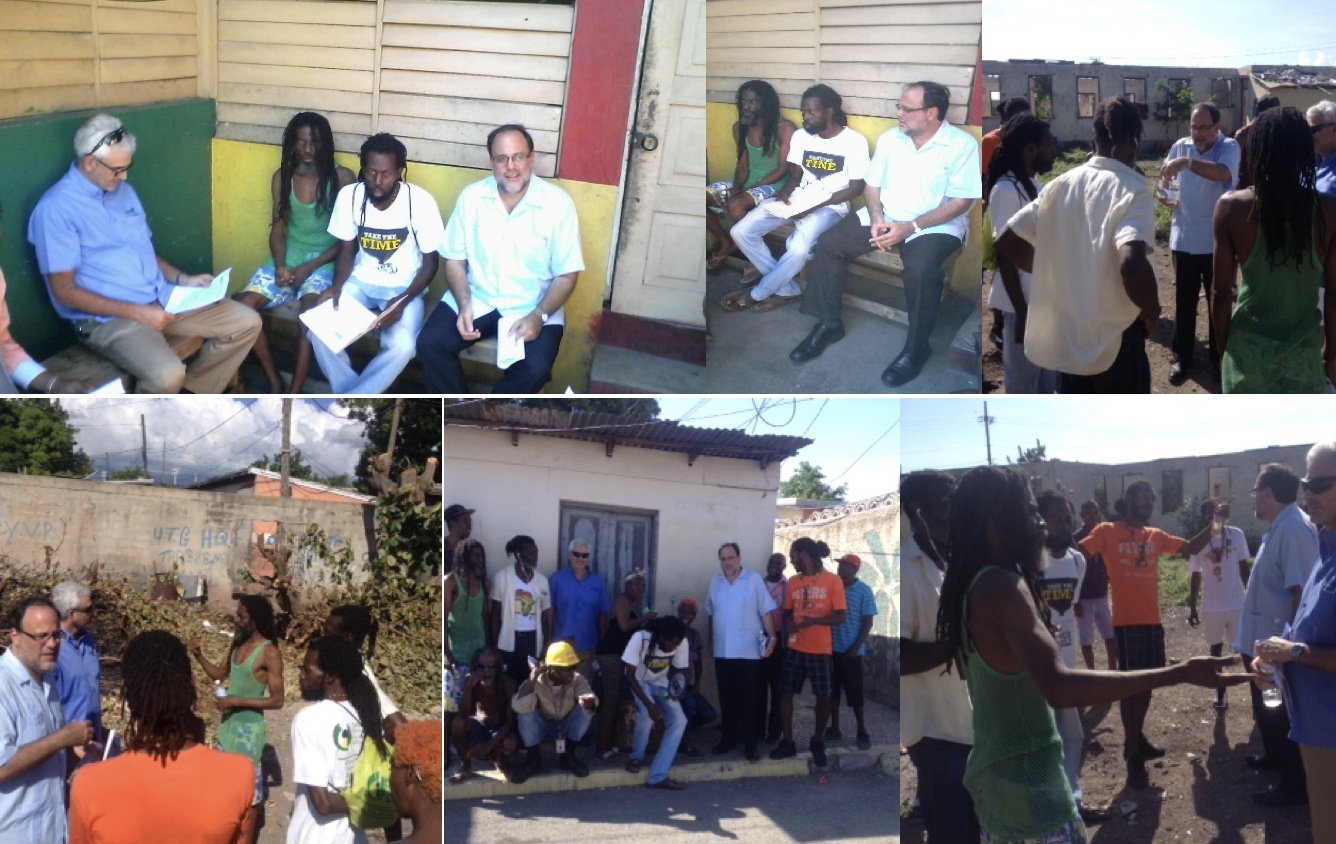 The Big Link projects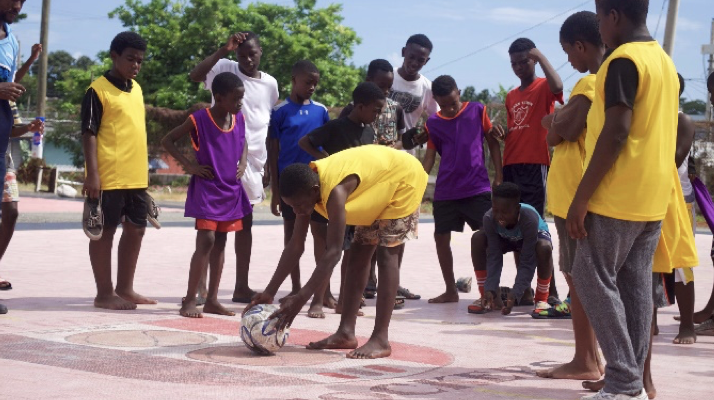 What's your biggest motto/ saying in Life? It is best to do nothing, than to do good with a bad attitude.
If you could sit down and reason with 3 people past or present who would they be? Marcus Garvey, Bob Marley, Haile Selassie.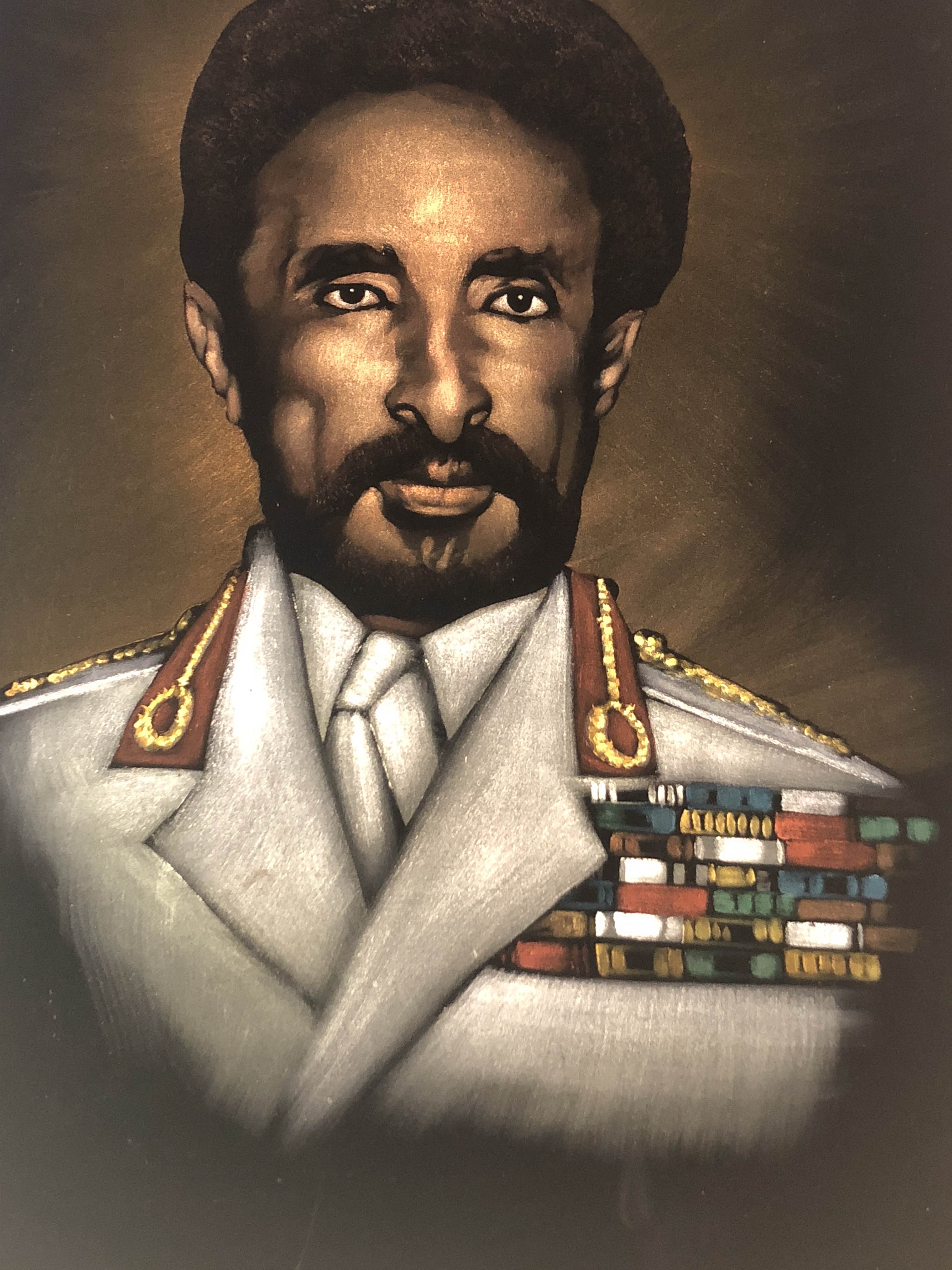 Portrait of H.I.M Haile Selassie at Big Link Studio
How do you see the future of Reggae? The future of reggae is strong, and we believe that with our contribution, it will become even stronger.
To visit Balla T and the studio please contact info@jamarado.com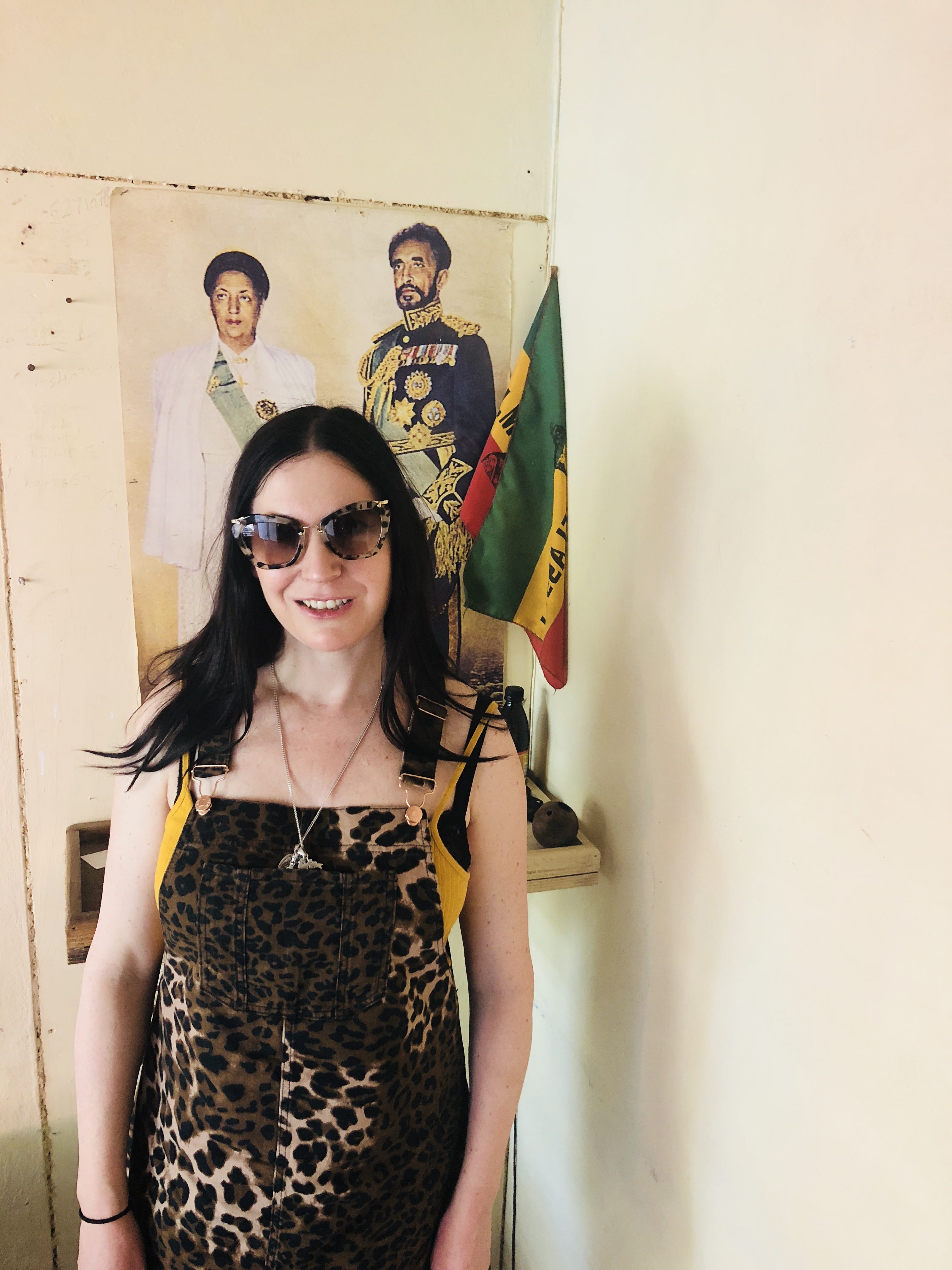 Karen Proctor, Jamarado Founder at Big LInk